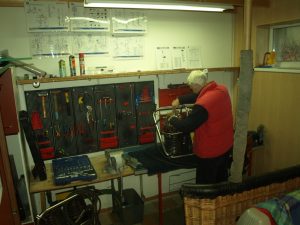 Hot air Balloon industry in Lithuania, during the last 20 years, has been expanding rapidly. That is why we have founded "Balloonservice" company. To accommodate and help with repair and maintenance, technical inspection and advertisement on Hot air Balloon. Our pilots and other staff members has huge experience dealing with these kind of needs.
"Balloonservice" was founded in 2005, when we acquired a license of technical inspection from one of the baggiest Balloon manufacturers in England – "Cameron Balloons". Today "Balloonservice" has expanded heavily and can offer not only passenger caring service, but also repair of all Hot air Balloon equipment. Including: fixing of burners and baskets, weave, sew up envelope tears, sew up a new or repair old ads on an envelope. Also we make annual Balloon equipment inspections too. We provide only the highest quality services. After repair and/or inspection we try out the equipment ourselves to double check that everything is working and looking as it should and will satisfy our client.
All these activities are carried out in "Balloonservice" facility, which is located in one of the oldest and still operating air ports in Europe (Lithuania's Kaunas Aleksotas Airport area). This Kaunas Darius and Girėnas airport has recently celebrated the 90th anniversary.
"Balloonservice" is the only one in Baltic States, offering such services in very acceptable prices.